Yeah, I know it's been over a month since the Paradise Comicon (Holy smokes!!! It's been a month??!!!!!!), but here it is: a post about the con!


There were a lot of "Death of Captain America" issues with sketch covers going around. This is one that I did.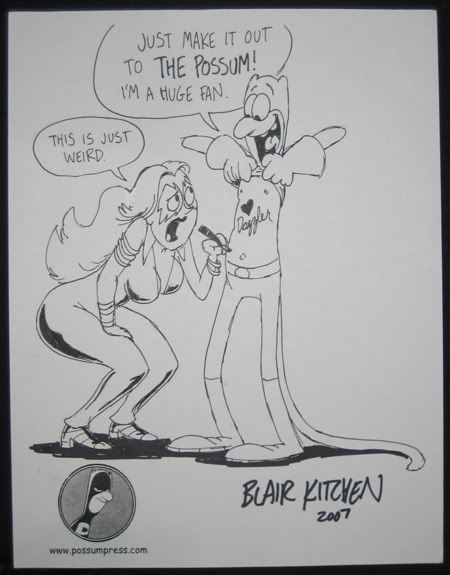 This sketch was for Chris Miller (a returning Possum Press customer!). Chris likes to collect sketches of lame/obscure super heroes. Last con, it was Stilt-Man. This con, he gave us a few options. Mike chose Beta Ray Bill, and I chose Dazzler. After the fact, I noticed that if you squint your eyes this sketch looks quite phallic. I assure you, I didn't plan it that way. (maybe I should have though)


Paul French (host of Poptopia) wanted the Possum being interviewed by him. Click on the image to see it larger.


Another "Death of Captain America" sketch comic. This one was divided into lots of panels so more artists could sketch on it. Mine is the lower one, and Mike's is the top right one.


And here are some more happy customers! Just look at those excited faces!!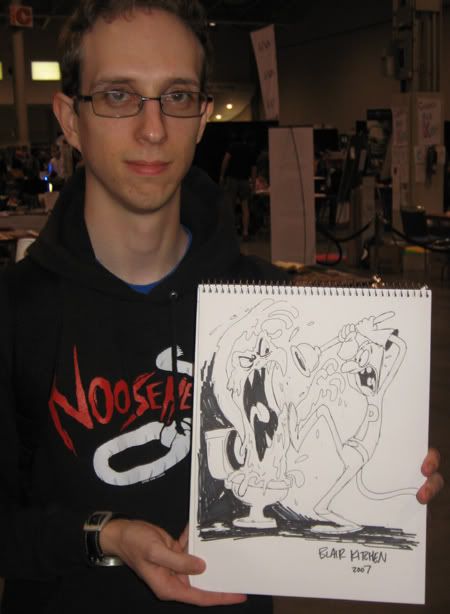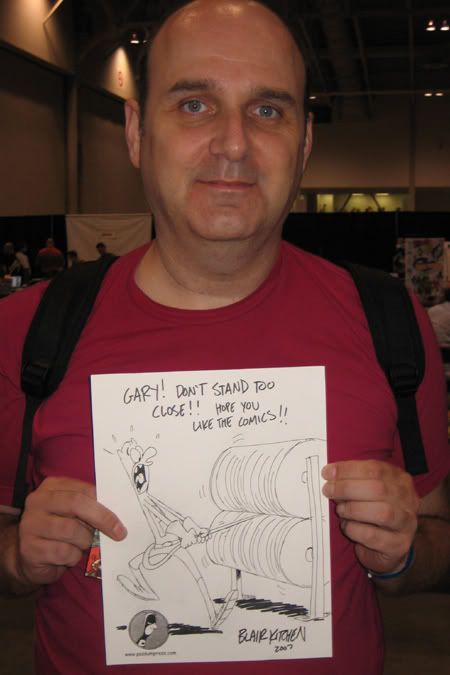 One of the great things that I have been noticing with these Toronto Cons, is that you see a lot of the same people in attendance. It feels great, because a lot of people who bought the first Possum comic at previous cons have come back, quit excitedly, to pick up the next comic, or a T-shirt. At the last con, a few people came by first thing on the first day to get the latest issue. It's nice to know that people who take a chance on an independent comic enjoy it.


I did this sketch for my friend Faith Erin Hicks who was a guest at this con, to promote a graphic novel that she is working on called "Zombies Calling". She came down from Halifax for this convention, and it was really nice seeing her there. Check out her stuff here. I think Zombies Calling is due out in November, and I'm going to look for it and pick me up a copy!


More Zombies!!
I'll have some more pictures up soon. Click on some of the photos to see a larger view!