One of the highlights of this Comicon, for me was to get a chance to talk to Dave Sim, of Cerebus fame. For an evil misogynist, he was a really, really nice guy. He had original pages on display that made me feel like a total hack. His line work is unbelievable.
Here are some more photos from the Comicon:
click on any of these photos to see a larger image of the sketches.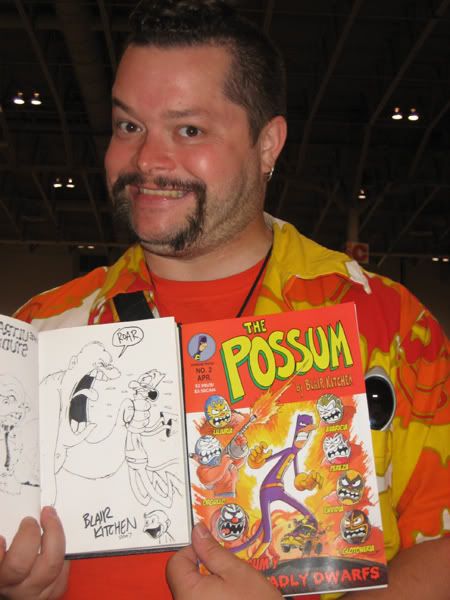 Well, to start Sunday off, I did a sketch in Scott's "Monkey" sketch book. At this point I wasn't feeling too good, and the whole time I was doing this sketch, I was thinking to myself "don't puke, don't puke, don't puke". Luckily I had my bro, Mike beside me to explain to Scott, why all of a sudden, I got up (not being able to speak because I was holding back the urge to vomit) and with no apparent reason ran off in the direction of the washroom. Unfortunately, Mike's explanation was a little off. (What was Mike's explanation to my sudden urge to vomit, you ask??? Click here to see!!)….. That was a pretty bright shirt that Scott was wearing.

Here's a couple familiar faces from the last con. They came back for issue #2 this time, and another Free Sketch!!
Here's some more sketches done while fighting off the urge to puke.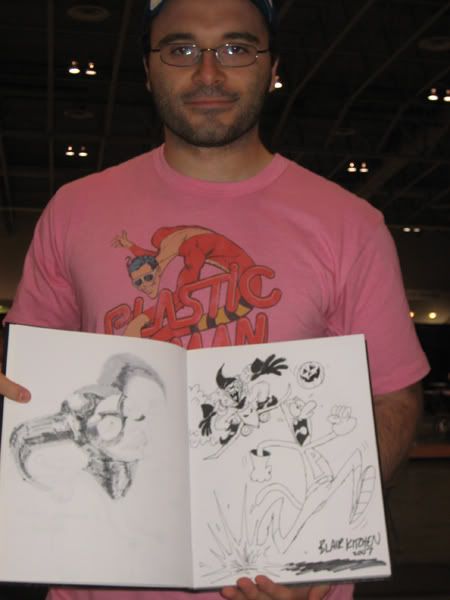 I didn't think I was going to make it through the day, because of how sick I was feeling. When I was ready to pack it in, in the afternoon, all of a sudden things started to get busy, and before I could get up to leave, I had a backlog of 2 or 3 sketches that I had to do. Everything worked out though, and all in all, it was a good con! Next up is the Toronto Comic Arts Festival (TCAF) on August 18th and 19th, and then the Toronto Fan Expo on August 24-26th. And we are looking into the Paradise Cottage Comicon on August 5th on Lake Simcoe. I'll keep you posted on that one.