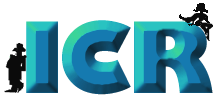 At last year's Small Press Expo, Alex Haas, of "Indie Comic Review" got his hands on a copy of The Possum, issue #1.  (or maybe I gave him one).  His review is now up on the Indie Comic Review website, and you can click here to read it, or here, to read all of his other reviews.  Here's a quote:
"The Possum tries to come off as an old-school super hero comic, of course, it also tries really hard to spoof that same format.  It succeeds brilliantly at both"
It's all down hill after that…….. (well, actually it isn't).