Last weekend was Paradise Comic's Cottage Comicon. We didn't know what to expect of this Convention, but seeing as it was in cottage country, not far from my grandparent's cottage, we figured "What the heck?". How often do you get to wake up and take a bath in the lake, the morning before a comic convention?


After a good scrub in Lake Simcoe, we headed off to the convention! This is the life. We weren't too sure what to expect from this convention, but seeing as tables were free for artists, it would be pretty tough to not come out ahead.


Before we were even set up, we had already sold a Value Pack, and we each had a sketch request for Wonder Woman!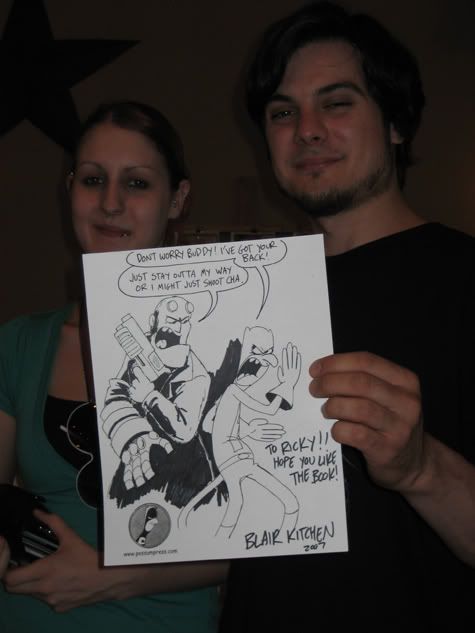 Click on image to enlarge
The convention consisted mainly of exhibitors looking at other exhibitor's stuff. It was actually pretty hard to tell who were exhibitors and who were fans. I saw a couple familiar faces from past Toronto conventions, which was really nice, and made some cool trades (Possum comics for older 70's DC comics!). This convention reminded me of the first convention that I had ever attended back when I was 11 or 12. It was in Burlington, at a Holiday Inn, and the highlight was buying mini comics for a quarter from the Lethargic Comics crew. Each comic came with a free sketch. I remember there was quite a crowd of kids around that table, and I think me and Mike walked away with 4 or 5 comics (with sketches) each. That table is the benchmark for what I think a table at a comic convention should be. It was a fun table to be around, and the price was something that a kid could afford. (best $1.25 I've ever spent)


The family even showed up!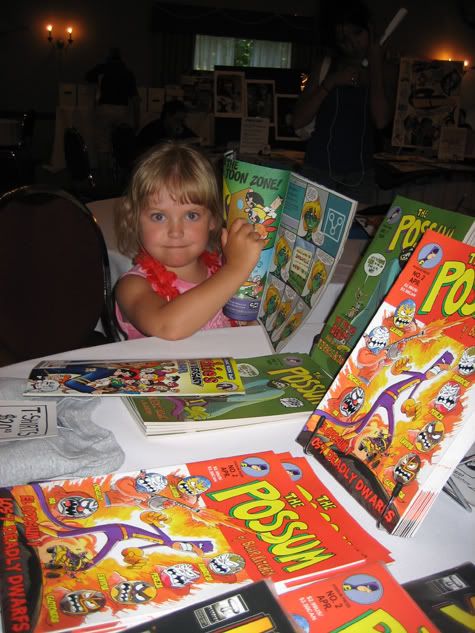 I even made my grandma buy a comic for a free sketch! If you can't get rich off of your family, then who can you get rich off of? All in all, it was a fun day. We sold 2 or 3 comics, enjoyed some sun, and did a few sketches. Hopefully they'll do it again next year. (Although, I'm not sure if we made our gas money back).
Next weekend…….. TCAF
Update: Mike has his Cottage Con report posted here!