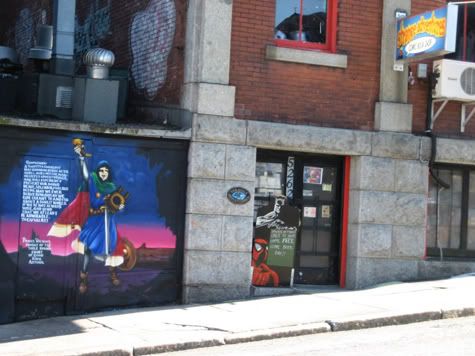 Strange Adventures – Halifax
If you live in Halifax, or the surrounding area, you can now find The Possum and Spy Guy at the Strange Adventures comic book shop on Sackville st. 
Get them, while they're hot!
If you don't live in Halifax, and you'd like your local comic shop to carry these fine comics, ask them to contact me at blair@possumpress.com, and I'd be happy to send them some!
(if all else fails, you can always order your own copy online, at the Possum Press store)
Also:  December 30th is Indie Comic Book Day and Possum Press and Ultraist Studios are a part of it.  It's not too late to get your local comic shop on board.  Find out more about Indie Comic Book Day here.
Update:  My friend, Faith Hicks sent me this photo yesterday.  It's a photo of one of the shelves at Strange Adventures in Halifax.  Thanks Faith!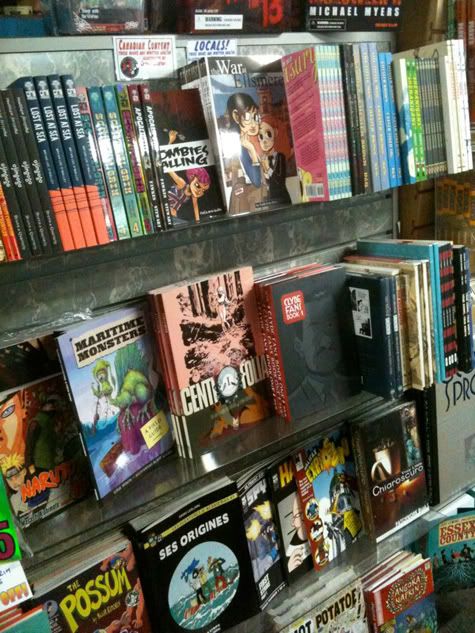 Faith's books are on the top shelf (War at Ellsmere and Zombies Calling).  On the 3rd from the top's shelf we have The Possum by yours truly and Spy Guy by Mike Kitchen, along with Chiaroscuro by Troy Little, and below that is Troy's other book, Angora Napkin.  (plus a whole bunch of other awesome books by Canadian comic book creators who I don't personally know).