I know, I know….. Wondercon was weeks ago.  Well….. better late than never I guess.  Here's some stormtroopers reading a Possum comic to make it up to you:

This was a really fun show to be a part of, and as always, I ended up meeting a lot of really nice people (comic artists and comic fans).  On Friday, we met up with Javier Hernandez, creator of El Muerto (the comic and the movie).  After the show, the 3 of us went out for a bite to eat, and had a great discussion about comics, politics, and everything in between…… good times!
Here's me, Javier and Mike, looking cool.  Ha!  I just noticed that the drawing of Spy Guy behind Mike looks like Mike has a super muscular comic book arm going behind Javier.  (Mike's pretty tough, but not that tough).
Saturday was by far the busiest day of the convention, and was really good for sales.  We did a lot of sketches that day.  Here's a few of the sketches from the weekend:
Click to enlarge.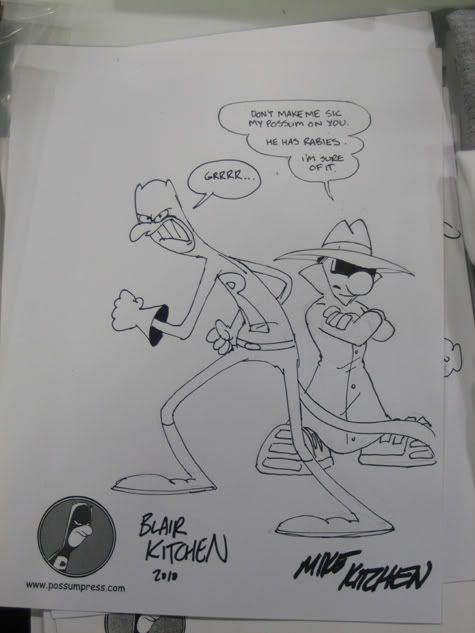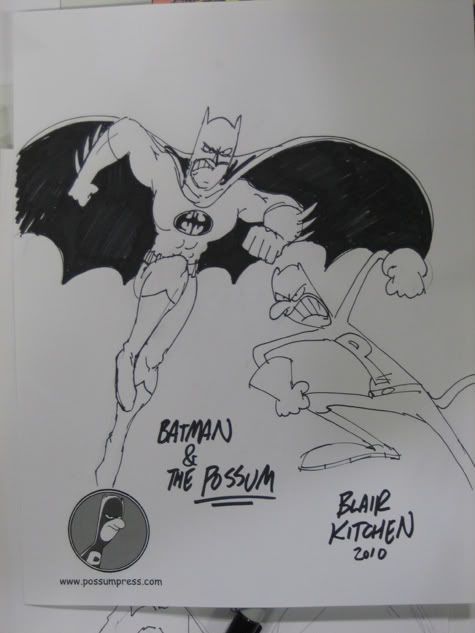 I also got to meet Sergio Aragones, who I'm a huge fan of.  I got him to do a sketch of Groo for me, and to my delight, he even incorporated The Possum into his drawing!  (I was a very happy guy).
It's always a real treat when you finally meet someone you look up to, and they turn out to be a really, really nice guy.  I gave Sergio my first 4 comics on the Friday, and when I talked to him on Sunday, he had read all 4 comics (and talking to a Possum reader whose Possum drawing I had printed in the letters page, Sergio recognized his drawing in the letters page and actually pointed it out to him, meaning he even read the letters pages), Sergio had all sorts of really great advice for me, and spent a good 20 minutes with me pointing out where I could improve, and even going through some of his comics, talking about comic pacing.  When you give your comics to people, it's just nice that they read them, let alone take the time to comment on them and follow up their comments with practical advice.
Here's a drawing that I did for Sergio: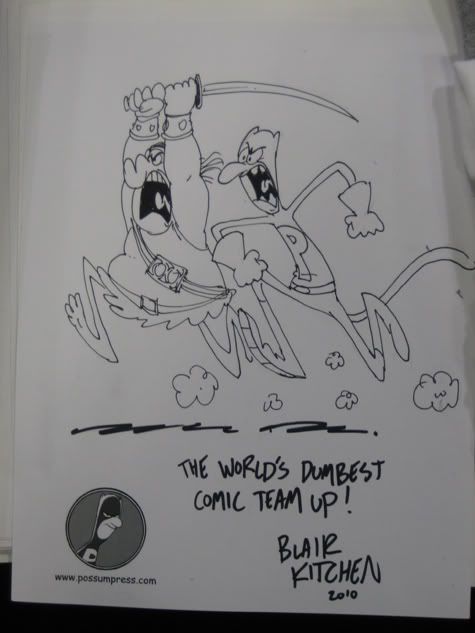 Mike and I brought our Flip video cameras and shot a bunch of video footage that we are planning on editing into a short video convention blog of our trip.  If all goes well, hopefully we will continue to shoot each convention we attend and have a video blog for each one………… stay tuned.